The thread of life amid debris of destruction
By Fu Jing
Updated: 2008-05-21 07:14
(source:China Daily)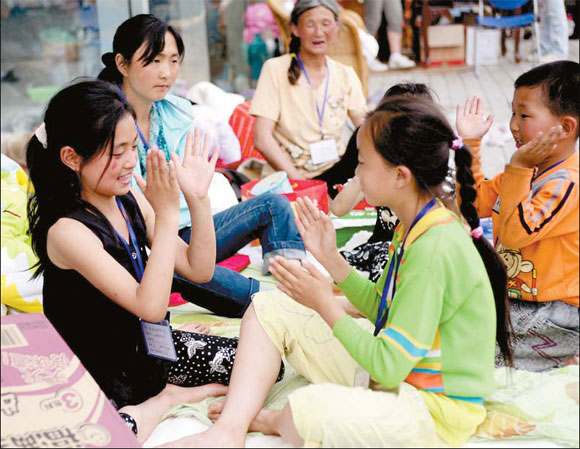 Children from Beichuan county, one of the worst-hit areas in Sichuan province, play a game in Jiuzhou Stadium in Mianyang city yesterday. A lot of people who lost their homes in the quake have taken shelter in the stadium. [China Daily]
BEICHUAN, Sichuan: Yang Debiao refuses to eat. "How can I when I have lost 60 family members and relatives in the quake?" says the 38-year-old. "How can I live without my wife? What will I tell my daughter when she asks where her mother is?"
Yang has just returned from Shanxi province where he worked in a mine.
His wife died when the cyber caf she used to work in collapsed. His nine-year-old daughter escaped miraculously, though hundreds of her schoolmates died when their school building collapsed.
Yang and Deng Xingyou, a retiree, are sitting on the rubble of building with their surviving relatives. Two bundles of clothes and quilts and a bottle of edible oil lie near them. Both of them returned to Beichuan county from a shelter in Mianyang city on Monday in the hope of finding their loved ones.
Though many people have been found alive under the debris of buildings after five, six or even seven days, the chance of finding one now is too remote.