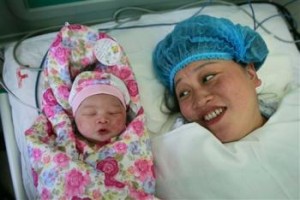 Baby Love born to quake victim in China
By DAVID WIVELL – 12 hours ago
URUMQI, China (AP) — A little over a month ago, Zhang Xiaoyan lay in the rubble of her earthquake-shattered apartment building. Trapped for more than 50 hours, she prayed for the life of her unborn child.
"Even if I didn't make it, I just wanted my baby to survive," she said. "I was holding out hope during the earthquake that this day would come."
That day was Wednesday, when Zhang's daughter was born by Caesarean section in the Urumqi Maternal Care Hospital. Hours later, Zhang talked to The Associated Press as she reclined next to her newborn baby, a rosy-cheeked infant swaddled in a pink floral blanket.
Zhang's dramatic rescue in the town of Dujiangyan — captured in photos and video footage that made their way around the globe — was a rare bright spot after the May 12 earthquake that ravaged mountainous Sichuan province and killed almost 70,000 people.